29 juin 2011
3
29
/

06
/

juin
/

2011
14:21
Since June 24th, I am in Calcutta for InMaLanka and I stay here two months. Although I have not been able to fully discover the city, my first impressions are that Calcutta is a city living at high speed and in the maelstrom of modernity. The West Bengal has indeed two faces. On the one hand, there is this gigantic capital, economic and cultural center, and on the other hand, a bit further, places where efforts for development need to be made. This is the case of the Sundarbans, a region of magroves, 90 km away from the city, in which InMaLanka is working with its Indian partner Mukti.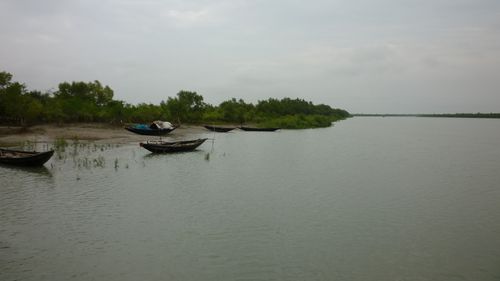 My first stay in the Sundarbans was on Sunday, June 26th. With members of Mukti, we went to the village of Purbasridherpur, the birthplace of Sankar Halder, founder of Mukti. To get there, the trip lasted nearly five hours through chaotic roads. There were two steps. First, the Mukti's programm entitled "Book Bank": 55 students received political science, English and Bengalibooks for the next 2 years. This year nearly 4500 children are beneficiaries of the program.

Then came a meeting with villagers to monitor the program "Lightning has one billion lives". Sixty sunlamps are available in order to prevent their use of kerosene lamps, harmful and responsible for respiratory problems. The villagers approve the system of solar lights. They allow them not only to save money but also to continue domestic work in the evening, which promotes a better division of labor on a daily basis.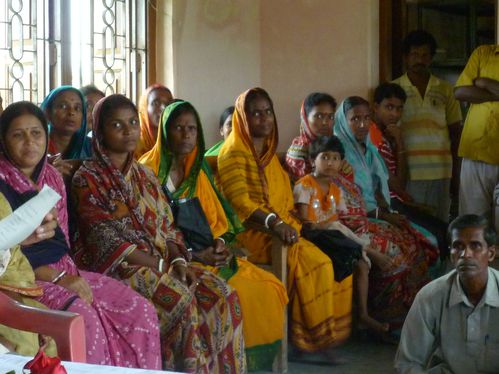 It is very interesting for me to see small improvements everyday have such effects. The next weekend, I will go to Kakdwip and begin my field survey about the medical needs of the population, especially women.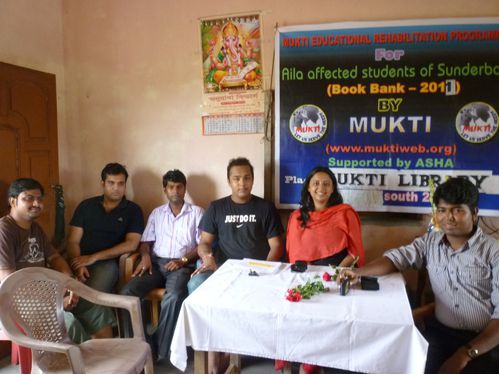 Kolkata, June 27th
Aurélie Bezault