31 août 2012
5
31
/

08
/

août
/

2012
22:43
Hello everyone!
We are now living at the Little Angels School three days a week since two months. We set up there a household-waste sorting and recycling program including a compost and a vegetable garden.
At the begining it was a difficult mission : when we explained our project to the teachers we understood that it will be difficult for them to appropriate this concept. Indeed, we wanted to convey a completely unfamiliar notion. Fortunately, Anand, InMaLanka's and Desire India's assistant, was really enthousiastic to act for the environment. He was really helpful to put the garden and the compost in place, also to set up the household-waste sorting action. Indeed, he is the one who brings the plastic bottles and papers to the collectors who collect often in the village.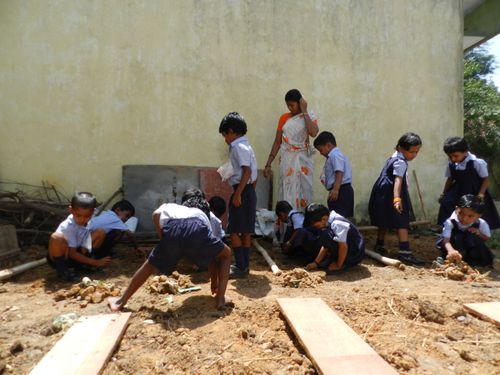 The future garden: above all, making the floor waste-free
As it goes along teachers by dint of discussions and children by dint of fun and educational activites about sorting out and about the garden, they understood the utility of this program.
Today children are able to separate papers (and recycle it!), plastic bottles, organic wastes and normal wastes. They have now all the responsibility of this project, we really hope it will be useful for them.
We have also given english classes to the teachers and assitants of the Little Angels School. In order to close these two months they asked us to prepare a small exam which permit us to see how much they improved their english because of their motivation and their will.
We would have liked to continue this exchange longer to observe their progresses in this language.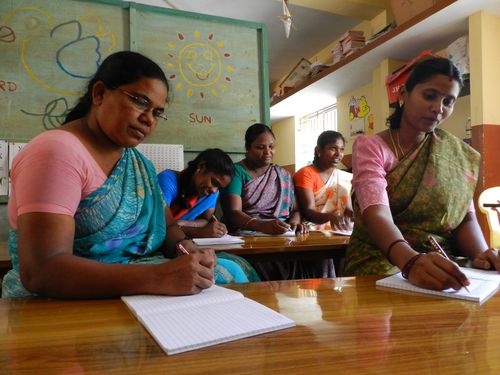 This article close our stay in India as interns for InMaLanka NGO and we will get back soon to this blog to speak to you about an event in France for the NGO.
This internship was really rewarding as human as well as a professional view!
See you soon !
Morgane and Ninon.
Photos by Ninon
More photo? Suscribe now to the newsletter!